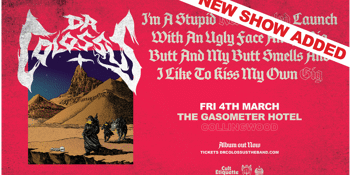 Dr. Colossus - I'm A Stupid Rescheduled Launch With an Ugly Face and Big Butt and My Butt Smells and I Like to Kiss My Own Butt *SECOND SHOW*
Astrodeath and Lucifungus
Gasometer Bandroom (Collingwood, VIC)
Friday, 4 March 2022 8:30 pm
**SECOND SHOW ADDED**

Simpsons themed Doom Rock quartet Dr. Colossus released 2021's most cromulent album 'I'm A Stupid Moron With an Ugly Face and Big Butt and My Butt Smells and I Like to Kiss My Own Butt' to as much praise as shock. The album scored number 1 debut on the nations AIR charts as well as a top 20 spot in the Aria Album charts.


Lavish costumes, dominating riffs and unnervingly catchy hooks... the goggles genuinely will do nothing to save you.


The good Dr are bringing along a huge list of friends to officially launch the record in their home town. Be sure to grab a ticket fast, this will sell out.