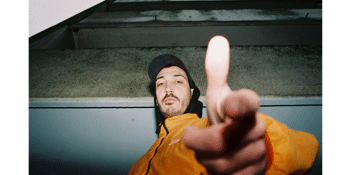 Wavyland
CANCELLED - Wavyland Presents Evil Grimace + Krampf (Casual Gabberz + Live from Earth)
Evil Grimace, Krampf
Gasometer Downstairs (Collingwood, VIC)
Friday, 15 December 2023 8:30 PM
WavyLand proudly Presents the debut Australia tour for 'Casual Gabberz + Live from Earth, members Evil Grimace + Krampf. Founded in 2013, The Parisian collective and label 'Casual Gabberz' are widely regarded to have evolved the 'Gabber' genre by fusing the style with contemporary club influences, forming a link between hardcore techno and sub-genres of internet culture.
Evil Grimace, the king of frapcore, as much in love with the djing,the violins of the rap 90's as with the violent kicks of Rotterdam traumatized a generation with his anthems "3 liters" and "BIM BIM",tracks impossible to circumvent a dancefloor as it should be.After an iconic first album "mes larmes" which transcribes his passion for his two loves, Evil grimace continues to leave his footprints everywhere in his path thanks to his musical signature.
Gifted at 27 years old, Krampf has already been noticed by all party lovers. His incredible sets make him one of the most talented DJs of his generation. From French rap to Hardstyle, crossing Taylor Swift & Headhunterz & Lil Uzi Vert, mixing Kuduro with Hardtrance. Just like this new generation, touching everything, curious and furiously revolted. He oscillates between his work as art director for artists such as Hyacinthe, Oklou, MZ, Set&Match, his card director of clip / 3D Animator with his sidekick the overproductive director Kevin Elamrani-Lince / Producer; after having produced for Maud Geffray, TDJ, ascendant vierge, Rallye, Las Aves, Bamao Yendé but also as remixers outstanding as for Maud Geffray on Pan European, Pelican Fly, Casual Gabberz or Live from Earth. After a first EP "What Is The DJ If He Can't Care" with nearly a million streams and a live with the artist OkLou, Krampf mixes video game and pop music and continues his exploration either as a fiery MC of Casual Gabberz or as a super efficient DJwith TDJ, Voiron, Las Aves.
————————
Wavyland & The Gasometer Hotel would like to acknowledge the Wurundjeri people of the Kulin Nation, who are the traditional custodians of the land and waters on which The Gasometer Hotel operates. We pass on our respects to their elders past, present and emerging.