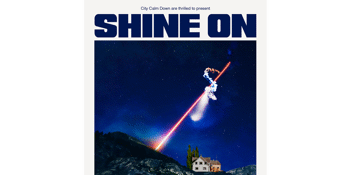 CITY CALM DOWN PRESENTS: Shine On
Baby Blue, Two People, Baby Blue + DJ Set's From Ali Barter, upsidedownhead, Emelyne (PBS) and City Calm Down.
Gasometer (Collingwood, VIC)
Saturday, 22 December 2018 8:00 pm
City Calm Down are thrilled to present Shine On: a night to celebrate some of Australia's most exciting new artists.


Taking place at the Gasometer Hotel in Collingwood, the inaugural event will feature live performances from bittersweet pop duo Two People, psych/prog lords murmurmur and indie/pop gems Baby Blue.
Rounding out the night will be DJ sets from Ali Barter, upsidedownhead, Emelyne (PBS) and City Calm Down.


All profits from the night will be donated to charity Support Act, to assist them in continuing the fantastic work they do supporting artists struggling with mental health.

Two People:

Phoebe Lou and Joseph Clough are Two People.
The Melbourne duo formed following the dissolution of their prior project, Snakadaktal. Since then, they've been writing, recording and producing their debut LP, which is due for release in the coming months.
"The words are written about being tied to yourself. There is a fragility and frustrated loneliness in that. It's a kind of dialogue. Here, the 'you' is myself.
We had a great moment recording the 'sax' through our guitar amp and pedals. Joey was improvising in the final stages of production and the room sounded like a big dark rave, it just sounded right, we knew then that it was ready. We used that initial recording on the album, if you listen closely you might hear us yelling wildly and moving around the room." - Phoebe Lou
Two People are behind all avenues of their creative work; from every detail of the music, to photo shoots and cover art. Protective by nature, the pair reached out to revered Scottish producer Rodaidh McDonald to mix, 'I'm Tied, To You', who has worked on records from the xx, Sampha, Adele and King Krule. Enthralled by what he heard, Rodaidh came on board to mix the single, later offering to mix the full LP at XL studios in London.
Lately, Two People have been immersed in the live side of the project. Their aim is to curate a flowing set that exaggerates every sound, moment and feeling from the recordings.

Murmurmur:

murmurmur (pronounced mer-mer-mer) seemingly burst from nowhere in 2018 with the release of their debut self-titled EP. Singles 'Cable Car' and 'Marmalade' were immediately picked up by triple j and Australian community radio and received effusive praise from leading Australian and international tastemaker blogs. However, behind the scenes stands a band of musicians that have been assiduously developing their craft for over ten years. This experience has allowed murmurmur to produce widescreen pop music that crashes over the listener with kaleidoscopic detail.

Baby Blue:

You'd be forgiven for thinking that Baby Blue have been around for longer than two years given their prolificacy in the Melbourne music scene. Having quickly become a staple of the local scene through their relentless gigging, the band, centred around Rhea Caldwell, have been turning heads with their infectious melodies and live show which is a joy to behold.
Lead singer and songwriter Rhea Caldwell performs with an ease few can claim to possess, tapping into sounds of 60s surf rock with a sprinkling of Americana and indie pop. The result is charming and considered concoction from an exciting new talent to watch.
Topics dissected in a Baby Blue song range from non-committal romances to self improvement, all delivered through Caldwell's refreshing sincerity. Alleviated from the project's humble folk beginnings, the force of the band is evidenced through sparkling backing vocals, flourishes of guitar and Caldwell's breezy yet impactful vocals. Each song takes the listener on a journey, striking the perfect balance between satisfaction and wanting to hear more.
Baby Blue is ultimately a marker for Caldwell's progress as both a songwriter and human, the trials and triumphs she faces finding their place in songs that appeal instantly. There's zero pretension at play here, just a desire to connect with others and make sense of the world through music.