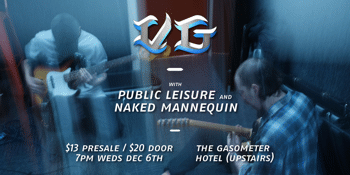 The Gasometer Hotel Presents
Virgin Garden with Naked Mannequin and Public Leisure
Gasometer (Upstairs) (Collingwood, VIC)
Wednesday, 6 December 2023 7:00 pm
Welcome!
It's with great pleasure to invite you to taste and experience some of the best flavours the Melbourne music scene has to offer.
No better way to break up your week than coming down to the Gaso (upstairs) at 7pm 6th of December.
What we have in store:
Public Leisure
Public Leisure are a Footscray based trio, writing songs that search to bridge Indie, Soul, Electronica, Hip-Hop and Jazz. By Incorporating improvisation, they breathe new life into their songs with each performance. They are currently recording their debut double single, to be released later in 2023.
Naked Mannequin
Naked Mannequin is a Melbourne alt-rock band that always aims to put on a groovy time.
Virgin Garden
Confess your sins with Virgin Garden, a Melbourne based Latin Rock band. Combining contagious rock riffs with Latin rhythms, Virgin Garden has created a recipe that will make you call your ex.
Presale tix $13 + bf / $20 door
See you there!