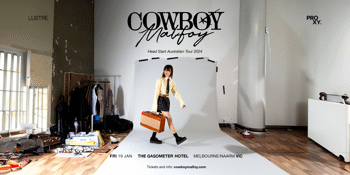 The Gasometer Hotel Presents
Cowboy Malfoy - Head Start Australian Tour 2024
With Special Guests
Gasometer Downstairs (Collingwood, VIC)
Friday, 19 January 2024 7:30 PM
Cowboy Malfoy is the moniker of Sydney musician Max Russell.

A twenty two year old trans non-binary artist-songwriter-producer, Cowboy Malfoy released their debut track How I'd Kill mid way through a music degree at NYU's Clive Davis Institute, and is now on the cusp of their own 'Maggie Rogers discovery moment' with an anticipated new single Head Start, due out OCT 27 2023.

Inspired by a vivid life journey, adrift through international schools in Vietnam and France, Cowboy Malfoy crafts compelling pieces of music that explore every nook of the spectrum between alternative and pop. The dynamism of output can be attributed to a broad taste pool of artists such as Kings Of Convenience, laufey, Chick Corea & Japanese indie pioneers Lamp - all deeply influencing Cowboy Malfoy's creative vision.

Cowboy Malfoy's magic comes from owning their vulnerable need to express what is being felt within - music created in the throws of often-intense feelings of confusion, navigated carefully on an axis between experimentation and perfectionism.

"I think the world is inundated with a certain narrative in popular media: "Be yourself", "be proud of who you are", what if I don't know who or what I am? I'm a trans non-binary person, living with ADHD, and OCD. But what's there for us people who have trouble identifying, let alone understanding our own thoughts and feelings?

I go about my life unintuitively, and for folks like me, we're searching for a validation for our uncertain, anxious existence. There are so many feelings of shame associated with not knowing who we are, and I'm fighting against that feeling. I want people to be comfortable being wrong about themselves, and dissolve this idea in culture that we are unchanging.

This part of my identity feeds into my art, a sort of frantic indecision that has led me to pursue mathematics, coding, design, architecture, and ultimately, music. It informs how I make music too. Cowboy Malfoy draws from a lot of inspirations and transforms / reinterprets things that already exist. Rather than believing it's unique - the brand is instead self conscious that creativity is an amalgamation of various existing things, experiences, and cultures."

Follwoing the success of How I'd Kill, which arrived in some haste on the back of an unexpected viral TikTok video, Head Start allows Cowboy Malfoy to feel out a more comfortable and considered path to release whilst showing a deeply personal and human side to the project.


Head Start's themes and lyrics cover darker, personal topics such as Max's own struggles with ADHD and mental wellbeing, and in turn shine a light on the challenges that plague modern day creatives everywhere.
"Head Start is an ode to burnout, as a universal feeling among artists, which extends to all pursuits, not just creative. Writing Head Start, I wanted to create the feeling of momentum and routine, interspersed with sighs of relief. Ultimately, I'm trying to heed my own words - to relax, and reconnect with why I'm doing what I'm doing."
No genre is safe, and whilst previous releases experimented deeply with Jazz and Bossa Nova,
Head Start
sounds a pinch more contemporary - reflecting a marriage of influence from Jeff Buckley to Panic At the Disco! and pairing Max's love for ballads and theatrics.
A driven and self-taught musician and all-round creative,
Cowboy Malfoy
has to date written, produced, recorded and mixed all their music (with some dolby-atmos spatial audio mixing from GRAMMY winning engineer Eric J Dubowsky).
With debut live shows on the horizon, and plenty of releases in the pipeline,
Cowboy Malfoy's
creative genesis now becomes an exciting guessing game, with audiences waiting to see where Max will guide us next.