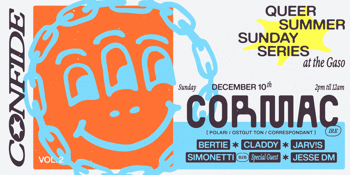 CONFIDE Queer Summer Sunday Series ☼ Vol. 2
CORMAC (IRE) [Polari/Ostgut Ton/Correspondant], Bertie, Claddy, Jarv!s, Simonetti b2b Special Interstate Guest, LUNA
Gasometer Downstairs (Collingwood, VIC)
Sunday, 10 December 2023 2:00 PM
**Final release tickets will be available on the door, get down early!**
Follow us on instagram for updates – @clubconfide

☼☼☼

We're back for round two of our Sunday series. It's also our 10th CONFIDE to date, so we thought something extra special was in order – our first international guest. A renowned selector and one of our biggest inspirations…
☼ CORMAC (IRE) [Polari/Ostgut Ton/Correspondant]
A queer Northern Ireland-born DJ, Cormac has been soundtracking dancefloors the world over with his unique take on HI-NRG, house and techno for the last 20 years.
In Berlin and Europe, he's best known for his legendary closing sets at Panorama Bar and Snax. He has also made appearances at the likes of Sonar Festival, WHOLE Festival, Homobloc, Adonis, isburning and many more.
In 2021 he founded his own imprint, Polari Records. The label showcases new and established producers with each release featuring collectible artwork from LGBTQ+ artists. Polari also hosts Cormac's own much loved anthem "Heartcore", and new release "Leather 'n Lasers".
With support from:
☼ Bertie
☼ Claddy
☼ Jarv!s
☼ Simonetti B2B a special interstate guest
☼ LUNA
Sunday December 10th
2pm til 12am
The Gasometer
484 Smith St, Collingwood
☼
Free entry for First Nations people.
Please contact us via direct message or email us at clubconfide@gmail.com
Follow us on Instagram for the latest – @clubconfide
☼
CONFIDE takes place on stolen land. We acknowledge the traditional owners of this land, the Wurundjeri & Boon Wurrung people of the Kulin Nation, and pay our respect to elders past and present, and extend that respect to any First Nations people attending.
☼
CONFIDE is about relief, release and respect.
CONFIDE has a zero tolerance policy towards any form of sexual harassment, as well as any racist, transphobic, homophobic, sexist, ableist or any other anti-social behaviour.
If you're feeling unsafe or uncomfortable please do not hesitate to speak to a staff member or send us a message on Instagram (@clubconfide).
All areas of the ground floor of the Gasometer are wheelchair accessible. There is a wheelchair accessible bathroom on the ground floor. More accessibility information can be found here – bit.ly/gasoaccessibility
All bathrooms are gender neutral.
There will be lighting effects, however no strobing will be used.
Please get in touch with any questions 〠
☼ ☼ ☼