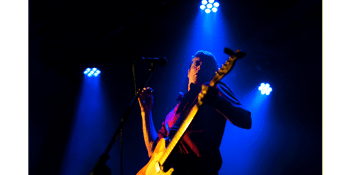 Charlie Marshall and the Body Electric 'Shiny and New' Album Launch
Gasometer (Collingwood, VIC)
Saturday, 27 April 2019 2:00 PM
Melbourne musical stalwarts Charlie Marshall and the Body Electric launch their new album 'Shiny and new' with very special guests Penny Ikinger and her band plus Caroline No.
Charlie Marshall is a key figure in Melbourne's post-punk scene starting out with legendary 80s blues punks Harem Scarem before forming the Body Electric in 1992 with like-minded fellow travelers from the Dirty Three and Beasts of Bourbon. 'Shiny and New' highlight's the influence of the great 1960s/70s soul musicians and singer songwriters on his music. There's cover versions of songs by three giants of the era – Marvin Gaye, Curtis Mayfield and Brian Wilson – along with some of Charlie's most soulful, upbeat songs with lyrics inspired by nature, science, hope, fear and philosophy.
For this launch Charlie will be joined by the 9-piece Body Electric 'SOULKESTRA' featuring Bryan Colechin – bass, Brett Poliness – drums, Andrew Watson – violin, Tim Deane – piano, Gus McMillan – flute, Matt Haben – sax, Ken Gardner – trumpet, Adam Hutterer – trombone and Kofi Kunkpe – percussion.
Support for this very special show is from two of Australia's great sonic chanteuses – former Wet Taxi/Sacred Cowboy PENNY IKINGER and her band, plus CAROLINE NO featuring Caroline Kennedy, renowned singer of the Plums and Dead Star.