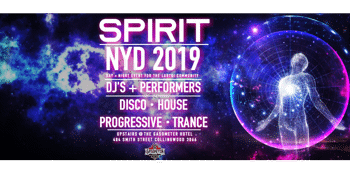 Spirit - New Years Day 2019
Gasometer (Upstairs) (Collingwood, VIC)
Tuesday, 1 January 2019 3:00 PM
Early Bird Tickets on sale now!
😉 www.trybooking/ZDQC

This New Year's Day 2019 we see the rise of a brand new event which crosses the boundaries of selected musical genre's. Don't miss this event set upstairs in the home of one of Melbourne's most well known pubs The Gasometer Hotel.

>High Profile DJ's
>Hot and sexy Gogo Dancers
>Live vocalist
>Indoor dance floor fully air conditioned / outdoor area
>Amazing performers
>Thumping sound system

New Years Day 1st January 2019
3pm – 11pm Upstairs @ The Gasometer Hotel,
484 Smith St Collingwood, 3066

TICKETS
www.trybooking.com/ZDQC

Early Bird $20 limited
1st Release $25
2nd Release $30

Disco – House – Progressive - Trance

Spirit parties welcome anyone to attend this is an all inclusive event and we look forward to providing you with a magical journey through various genre's of electronic music.