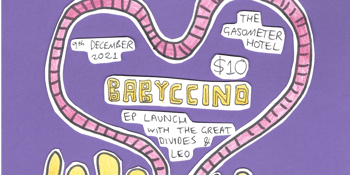 Babyccino (EP Launch)
w/ The Great Divides & Leo
Gasometer (Upstairs) (Collingwood, VIC)
Thursday, 9 December 2021 7:00 PM
After an array of postponements and cancellations, Babyccino is back and excited to finally celebrate the launch of their debut EP 'Stomach Bug' earlier this year. With playful melodies supporting clever lyrical tales, listeners embark on an emotional journey with many twists along the way. Come on down to The Gaso to hear the band perform these songs live, and snag a fun little cassette to let the memory last forever.
With their friends The Great Divides and Leo to support, it is bound to be a great evening!
We acknowledge the Wurundjeri people who are the traditional custodians of this Land of which this event is taking place. We would like to pay our respects to Elders past, present, and emerging and acknowledge that sovereignty was never ceded.