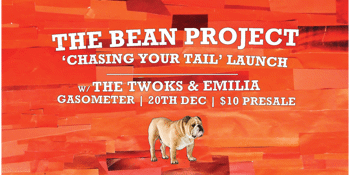 The Bean Project
Gasometer (Upstairs) (Collingwood, VIC)
Thursday, 20 December 2018 7:30 pm
The Bean Project return with the familiar fanfare of horns, chug of double bass and drums, and jazz/pop/folk/who knows songs your and your friends all love wholeheartedly. We are thoroughly are excited to release 'Chasing Your Tail,' our newest single. A roaring war chant tune, 'Chasing Your Tail' describes a one sided romantic pursuit; like a dog chasing its tail. We'll be supported by the extraordinary The Twoks and Emilia, so COME ON DOWN!

Tickets are $10 presale
Tickets at the door are $15 ($10 concession)
Gasometer Hotel
Doors 7:30pm

-- THE BEAN PROJECT

From the Eastern suburbs of Melbourne come The Bean Project, a vibrant brass clad quintet blending the woody sounds of folk and jazz with the groove and bounce of funk and soul - most aptly described as 'the odd marriage of James Taylor and The Cat Empire'.

In 2014 The Bean Project emerged as a duo of Ben Langdon and Bryce Turcato, making a name for themselves playing locally, touring the east coast, then releasing their debut EP in 2015. The Bean Project were named the Folk Alliance of Australia's 2016 Artist of the Year and grew into a five-piece, touring nationally and performing at festivals including Port Fairy Folk Festival, The National Folk Festival and Folk Alliance International (USA).

In June 2017, The Bean Project teamed up with David Carr at Rangemaster Studios to record their debut album 'Naked Trees.' Like a good whisky, 'Naked Trees' is strong, woody and rich, makes you think about your life and gives you a bubbling desire to dance. Swaying from enthusiastic groovy numbers such as 'Gaps' to tear-jerking singer-songwriter ballads such as 'Never Been More Alone,' the album is a diverse collection of 10 songs inspired by jazz, funk, country and pop, played by an equally as diverse cast of musicians from different musical sensibilities.

As is tradition in young bands, one of the founding members, Bryce, left the band to pursue other goals. After a short period of stagnancy, a short period of inspiration and then a prolific out-pour of new music, Ben reformed the band with Isaac Gunnoo on bass, Maddison Carter on drums, Jared Becker on tenor sax and Callum Mintzis on trombone.

Melbourne's award-winning brass-clad quintet The Bean Project are recording new music throughout the latter part of 2018 with a new single 'Chasing Your Tail' due in December, and more to come in early 2019!

-- THE TWOKS

The Twoks are Xani Kolac (electric violin/vocals) and Mark Leahy (drums). The Melbourne-based duo have been making happy violin and drums dance music together for the past six years. Electric violin and percussion combine to make something that is truly one of a kind. Versatile and energetic live performers, Xani and Mark are as happy performing to a sit-down audience as to a rowdy pub crowd. Their influences are mostly life's adventures, but musically-speaking, the duo listen to a lot of Sigur Ros, Kate Bush, Phoenix, Leonard Cohen, Martin Hayes/Dennis Cahil and Pat Benatar - anything good,

-- EMILIA

Emilia is known for her warm jazzy undertones and sultry lush sound, with a big voice and even bigger hair. Performing around Melbourne at some of the best venues with various successful bands (The Mamas, The Emilia Quartet, EMILIA band); ranging from pure soul acts playing in The Night Cat, Soul in the Basement/Cherry Bar to the Toff in Town, to jazz at Uptown Jazz Cafe, Dizzy's Jazz Club and Paris Cat Jazz Club.