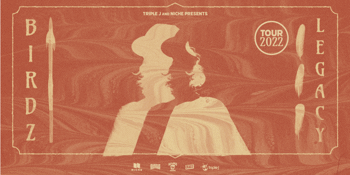 Niche & Triple J presents...
BIRDZ (LEGACY TOUR)
Gasometer Bandroom (Collingwood, VIC)
Friday, 22 April 2022 7:30 pm
BIRDZ
Raised in Katherine N.T. and based in Melbourne, as a proud Butchulla man, Birdz is renowned for his unique brand of hard-hitting hip-hop embodying strong messages of hope and self-determination. With over 4 million global streams to his name, the unapologetic rapper second full-length album will be released later this year/early next year and follows his critically acclaimed award-winning debut album Train Of Thought (2017) and his 2019 EP release, Place of Dreams
Following the recent success and connection of his stand-out powerful single 'Bagi-La-Bargan' (which came in at #30 on the triple j Hottest 100) Birdz has just dropped the official video for his new single 'Fly' feat. Ngaiire.
The arrival of the 'Fly' video follows Birdz powerful live performances on the first episode of ABC's The Set. Performing with his full band and dancers, these remarkable performances saw Birdz perform 'Fly' with Ngaiire and for his widely lauded single 'Bagi-La-M Bargan', joined by Cousin Fred Leone. In addition, Birdz collaborated with Missy Higgins to cover Destiny's Child's 'Survivor', which has now been viewed over 270k times on Facebook alone.
'Fly' premiered on triple j drive and was instantly added to full rotation. The uplifting track that speaks to the strength and beauty of resilience, was also added to double j, and supported across community radio stations, FBi Radio, 2SER, Triple R, SYN FM, 4ZZZ, Edge Radio and PBS. This month also sees Birdz chosen for MTV Australia and N.Z. 'Indigenous Artist Of The Moment' with coverage on MTV and MTV.com.au.
Produced with astound producer trials, 'Fly' landed additions on Spotify playlists New Music Friday, The Local List, The Drip, Deadly Beats and Apple Music's New Music Daily, Best New Songs, First, The New Australia, New Fire, Vibes and Alt Rap. 'Fly' received praise from tastemaker outlets Acclaim, Junkee Music (Release of the Week), NME Australia, Purple Sneakers, Life Without Andy and Music Feeds.