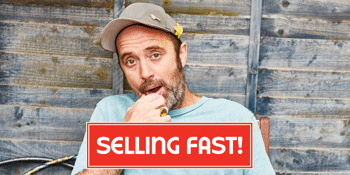 This Is Now Agency & The Gasometer Hotel Presents
Beans on Toast (UK)
with Special Guests
Gasometer Downstairs (Collingwood, VIC)
Saturday, 20 January 2024 7:00 pm
The English Folk hero 'Beans on Toast' will return to Australia in 2024
He promised he'd return, and true to his word, 'Beano' is coming back this January. Captivating hearts and minds with his tales of love, politics and the human experience, Beans is unafraid to challenge the status quo with his irreverent wit and soul-stirring lyricism.
His songs are a celebration of the human spirit and a call for unity, they leave listeners inspired and moved. Inviting us to reflect, laugh and remember that amidst the chaos, there is still hope and beauty to be found.
WEBSITE
http://www.beansontoastmusic.com/
INSTAGRAM
https://www.instagram.com/beans.on.toast/
YOUTUBE
https://www.youtube.com/beansontoasttube
SPOTIFY
https://open.spotify.com/artist/6fVeXD7D2RpFoR6bzNEDPo?si=UrUqMVOQR4KhYzaitSkjeg


————————
Beand on Toast and The Gasometer Hotel would like to acknowledge the Wurundjeri people of the Kulin Nation, who are the traditional custodians of the land and waters on which The Gasometer Hotel operates. We pass on our respects to their elders past, present and emerging.