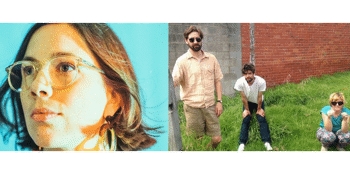 Loni Rae Thomson, Footy & Cheesie play The Gaso Upstairs
Gasometer (Upstairs) (Collingwood, VIC)
Thursday, 13 December 2018 7:30 pm
LONI RAE THOMSON is a seasoned performer and songwriter who has called both Melbourne and Berlin home in recent years. She embodies heartfelt and emotion-provoking lyricism, while her music comes laced with the influences of a diverse musical background. Her recently released single 'On My Own' has the type of nuance and vulnerability behind it that fans of Feist and Sharon Van Etten recognise and love. See her in full band mode bringing it all to life on stage at The Gaso.

Experimental-piano-psych favourites and Melbourne's least google-able band FOOTY are emerging from a long winter's hibernation with a new album in hand, 'Flora Fauna', and a new band mate in Evelyn Ida Morris. Their music is largely improvised, minimal, drone-like, psychedelic, with avant-pop flashes. They will be playing this intimate gig ahead of the album's launch. Don't miss this rare opportunity to catch the band live and up close.

According to her theme song, CHEESIE's got moves that your body can't handle. Opening the night with gusto, expect some catchy garage-pop tunes punched out on electric guitar, backed by a drum machine, and delivered with lots of heart. Cheesie will throw in a few surprises to keep even the more seasoned punters on their toes.