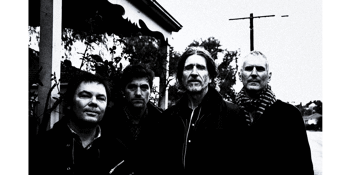 The Gasometer Hotel Presents
Mick Daley's Corporate Raiders - with Luke Sinclair and Little Faiths
Gasometer (Upstairs) (Collingwood, VIC)
Saturday, 16 December 2023 7:30 pm
'Mick Daley's Corporate Raiders make a return to Melbourne after Mick's recent solo Irish tour. Playing their eclectic blend of rock 'n' noise with the well crafted lyricism of Mick up front the band will be joined by Raised By Eagles frontman Luke Sinclair playing in solo mode along with the fabulous Little Faiths. We've been wanting to do this together for a long time!! It's going to be a ripper night. Book early!
Mick Daley's Corporate Raiders - paranoid purveyors of hangover rock, hit the Gasometer on December 16 with their all star rock n roll line up. Expect outrageous outpourings of unabashed effrontery as the Raiders rip out tales of Australia in the raw.

Luke Sinclair is an artist of integrity and a generosity of spirit - Through his recent work with award-winning Americana outfit, Raised by Eagles and now his latest solo offering, HEAVY DREAMS, Sinclair continues to forge a well-respected and lasting name for himself across Australia's musical landscape. - "Ablaze with his trademark country-soul and balladry, Heavy Dreams is proof positive of Sinclair's immense musical vision and artistry" - Rob Dickens, Listening Through the Lens. - "Let's hope Sinclair finds his place in the sun soon because he has undoubtedly given us one of the albums of the year" – Brian Wise, Rhythms Magazine.

Little Faiths is the song writing pairing of Douglas Galbraith and Jon Baxter, fellow music obsessives whose creative output spiralled when they put their heads together. Over the last two years they have compiled a sonic scrapbook crammed full of reveries, schemes, and shadowy recordings that are now slinking out into the light of day. Little Faiths present their original songs through multiple formats - acoustic duo, five-piece rock band, duo-with-feature-guests (keys, clarinet, other guitars or bass), and songs written to play on piano while nursing a strong drink and a heavy heart. Strong vocal harmonies, poetic lyrics and messy, moody guitars are the hall marks of Little Faiths schtick.