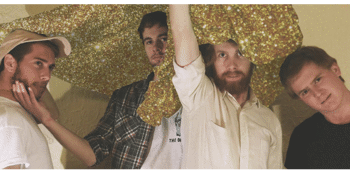 The Attics
Gasometer (Upstairs) (Collingwood, VIC)
Friday, 30 November 2018 8:00 pm
Melbourne indie outfit The Attics are excited to reveal their latest psych-pop jangle 'Pastel Blues'. Following on from their previous single 'Ultramarine' and fun-as-all-heck single launch at The Grace Darling last month, the country-Victorian born four-piece will play the Gasometer Hotel Upstairs alongside mates House Hats and FEELDS (solo) to celebrate the shiny new release.
"There's something austere and untouchable to The Attics' music. Stark and distinctive, their unique brand of indie-rock comes built with dazzling aesthetics and dripping in jangly, untouched contrasts." – AAA Backstage
An introspective narration, the new single captures the ponderings of an escapist rotating through the daily 9-to-5. 'Pastel Blues' is much more opaque than its title suggests, beaming with bold hooks and playful arrangements that are captivating and instantly recognisable as their own. Striking, fun and a little bit silly, the single is rapidly becoming a set list favourite at any live show, and is sure to be listed as a staple of many summer playlists to come.
"Pastel Blues is the least serious thing we've written in years. It's a playful exploration of the phrase on repeat in the chorus, "wondering how it feels bad to be good all the time". It's a really dumb set of words, but a funny thing to think about in depth. So we're exploring that with this kind of wandering commentary, reconfirming that life would be super bland if we only ever did what we were told we should. I think you can almost feel the music taking a few steps back and lazily fall into line with the idea…" – Cameron Wade, The Attics
After a recent run of shows opening for indie duo Slum Sociable, as well as past festival appearances at By The Meadow and Canada's Indie Week Toronto, the four-piece have acquired a live show that is a joy to behold. With dreamy guitar hooks, driving bass lines and heart stirring percussion, The Attics 'Pastel Blues' single launch is not to be missed.